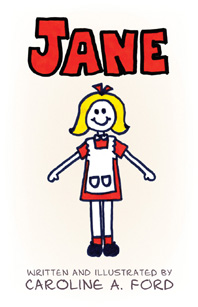 Are you the parent or grandparent of a child who loves dolls? You and that child will love this charming book about a doll named Jane.
Caroline Ford was twelve when she wrote and illustrated this book. Caroline was sad to be putting away her dolls. Maybe the dolls were sad, too, she thought. So she wrote about Jane, who is put away in a box by her owner Annie. Years later, when Annie is grown up, Jane is brought out and presented to Annie's daughter, Mandy—making everyone, including the doll Jane, happy.
Caroline's book is ideal to be read to pre-schoolers, aged 3-6. And perfect for new readers, especially girls, aged 6-8.
The text is simple and direct. The illustrations are colorful and bold.
---
PURCHASING OPTIONS
Amazon
Barnes & Noble