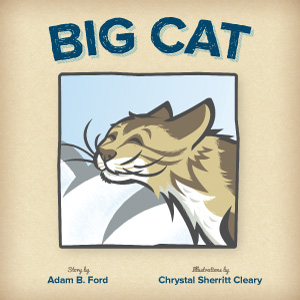 A housecat goes out on a journey, exploring the surrounding lands and becoming a great cat. The illustrations are bright and funny, with the story in rhyming meter that will delight children and their pets.
Although author Adam Ford is very much a dog person, this story seemed to need to be about a cat.
The illustrations for this book were done by Chrystal Cleary, who makes art of various kinds in Landgrove, Vermont. Her bundle of brindle dogs matches her family 3 to 3, but she keeps them busy hiking and exploring with her in the mountains and meadows of the Green Mountain National Forest.
You can see Chrystal's artwork at ChrysCleary.com.
---
PURCHASING OPTIONS
Amazon
Barnes & Noble